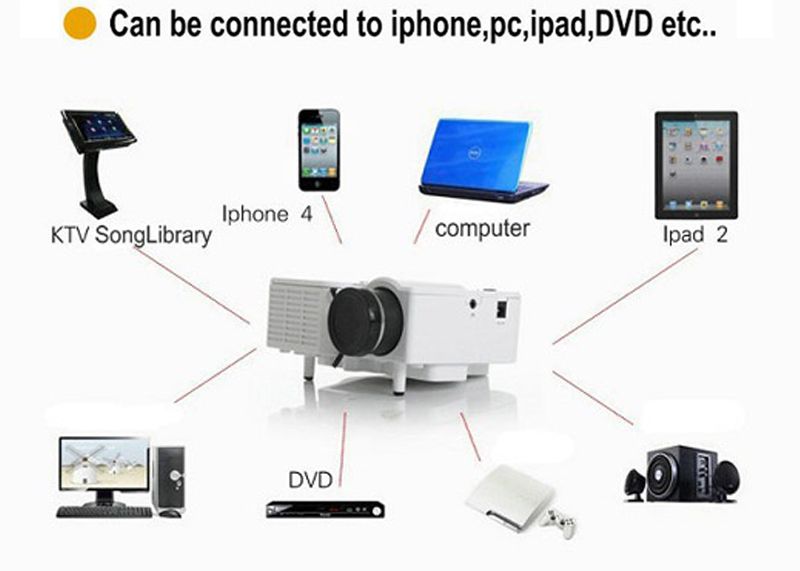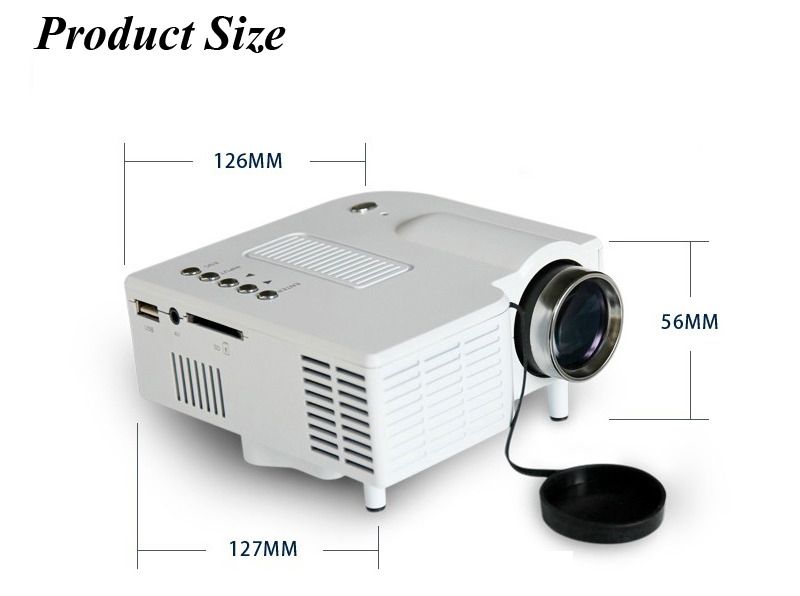 Product Features
The LED lamp can work for over 20,000 hours, and will provide a superb picture;

Manual focus adjusting, get picture from 20 to 60 inches;

Professional trouble shooting and protection measures;

The projector is small and light, easy to carry;

Easy changing in 16:9 and 4:3 aspect ratio; Low power consumption,echo-oriented;

Multi-function interface: VGA, AV,SD, USB, HDMI input(Data Cable not includeD)

Vehicle power supply supported, easy to use;



Specifications:
Image system: LCD

Native Resolution: 320 x 240

Supported resolution: 1920x 1080

Lamp: LED

Input Voltage: 12 V

Language: English etc

Brightness: 48 Lux

Contrast: 300:1

Lens: F=125

Image size: 20-60 Inches

Projection distance: 1.25-4.0 m

Projection mode: Front projection

Operation mode: Manual remote control

Output: Headphone

Input: VGA/AV/USB/SD/HDMI(Data cable not included)

Audio: WMA, MP3;  

Image: JPEG, BMP, PNG;

Video: MPEG1, MPEG2, MPEG4, RM, RMVB, AVI, MKV, MOV

Power waste: 24W

Speaker: 2.0 W *2

Net Weight: 0.38 Kg

Product Size: 127*127*57 mm



Remarks:
While using the projector, please connect the power adaptor with the projector first, and then connect the power adaptor with the power.

If you want to play any file that is not included in the above table, you might encounter problems, and please transform the format first so as to make it play smoothly and normally.

only suitable for dark place personal entertainment cinema, not suitable for business, teaching, presentation PPT documents, etc. where strong light during the day, not a substitute for computer monitors, replace TV.
Please make sure that you follow below steps:
1/ Download the package from themeforest.net (the file is in zip format)

2/ Extract the file you've just downloaded.

3/ Find this file: ella-3.0.0-sections-ready.zip in the folder Ella Sections Ready 3.0.0, then you just need to upload ella-3.0.0-sections-ready.zip file to your Shopify store.

To save your time and reach our support quickly, please follow below steps:
1/ Create a staff account for us (with Themes permission and Settings permission) http://docs.shopify.com/manual/settings/account/staff-members
2/ Capture screenshot or video for the issue you get.
3/ Specify which template and version you are using.
4/ Describe clearly how to reproduce the issue.
5/ Send all information (staff account, screenshot, video, template name and version, description of the issues, link) to support@halothemes.com
Yes, we will assist you to install the template if needed
Yes, we do. Please send your customisation requests to support@halothemes.com, we will give you our quote. Thank you.
Yes. You can turn on/off the animation in the Setting page.
Yes. You can turn on/off almost any blocks on the page (featured products, slideshow, banners, related products, recent products,...).
Yes, we have a setting for you to switch between these two options: Display on Hover and Display on Click.
The theme package includes theme source, Photoshop design files, sample data and manual guide.
That is not a problem. You just need to modify the width/height ratio in theme settings.